See in 2024 at the so-called 'Island of Gods'!
Bali is renowned for its beautiful weather, stunning natural beauty, and hospitality of its citizens! A mecca for sun-seekers, partygoers, and adventurers everywhere, the Indonesian island is a veritable hotspot of sun, fun, and relaxation.
So what better place to see in the New Year with celebration, hope, and optimism?
Being one of the most-visited tourist destinations in the world, Bali has more than enough restaurants, cafes, bars, and nightclubs than you could shake a stick at, so where on earth do you even start in choosing the right venue to hold the best party you'll ever have?
For this article, we've compiled a list of what we believe to be the top 5 places to choose from. Believe us when we say we extensively researched this subject at length and in person (it's a dirty job but someone had to do it!) to bring you this article.
So, mix yourself a pina colada and let's go…
1. Cocoon Beach Club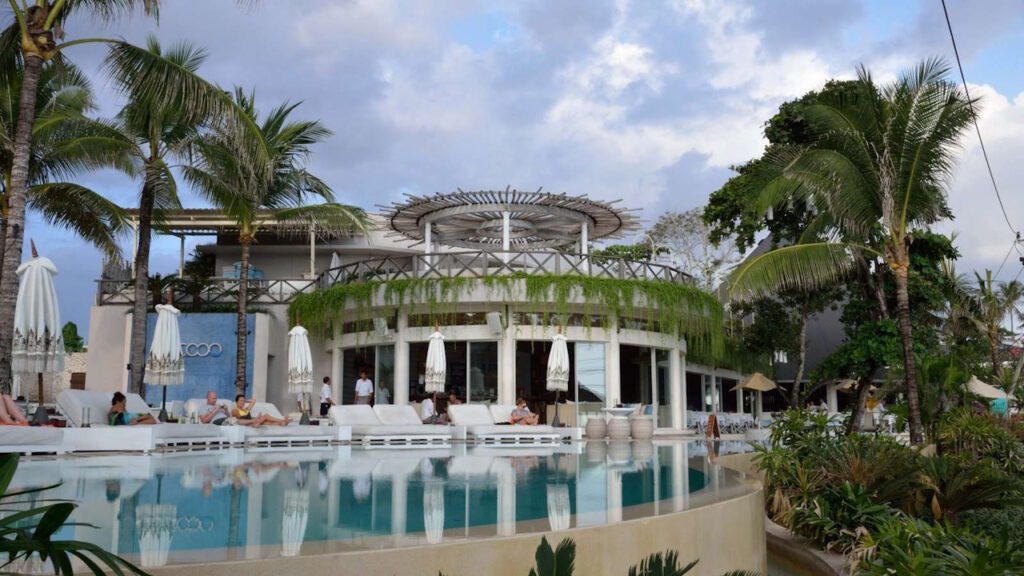 One of the favorite tourist destinations in Bali and it's very easy to see why! With a bar, restaurant, nightclub and swimming pools all in one location, this venue certainly lives up to any and all expectations.
You can purchase a range of packages here, from VIP daybeds to restaurant deck lounges, there's something here for all tastes and occasions. One of the main draws to the Cocoon Beach Club is the international DJs that spin the discs at this illustrious venue, so you know you're in for the night of your life!
Start your New Year celebration with a delicious dinner on the beachside, before seeing in 2024 at a gala party starting before midnight and accompanied by fire dancers, acrobats, and a pyrotechnic fireworks display that will take your breath away.
If you're looking for the #1 spot to celebrate New Year in beautiful Bali, this venue is simply second to none!
2. COMO Uma Canggu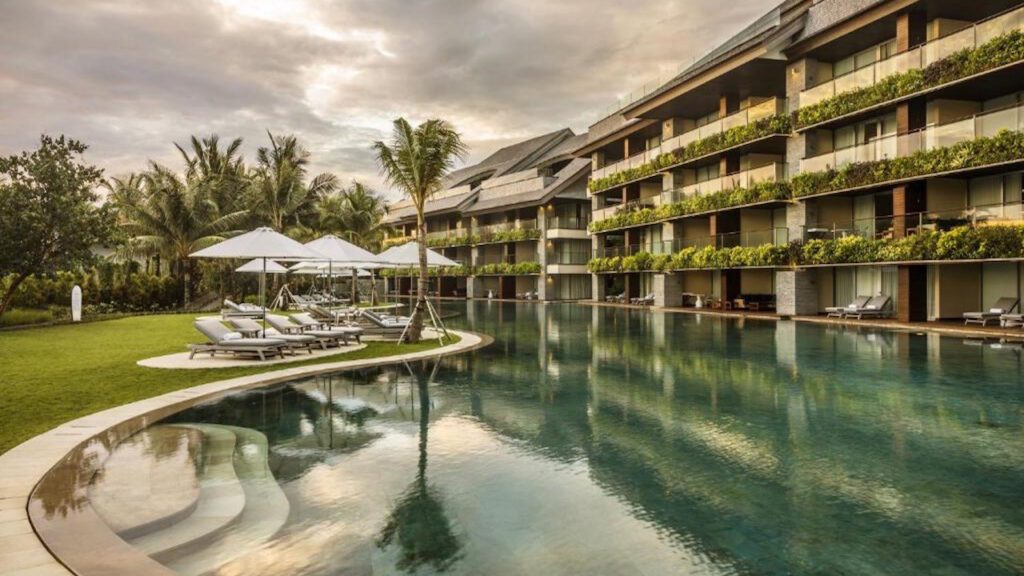 Not just a bar, restaurant, and swimming pool venue but also equipped with full spa and fitness facilities, and is fully family-friendly too!
Set against the backdrop of a stunning Indonesian vista, COMO is one of the most popular places in Bali, where everyone can not just relax and have a wonderful vacation but also gain a sense of health and wellbeing that only makes the overall experience that more special!
New Year's celebrations begin early with full dinner service starting at 17:30, accompanied by full DJ, live music, and countdown to midnight! The dinner itself consists of a mouth-watering three-course meal, and, of course, a full bar with innumerable choices to suit your palate.
Presuming you've recovered, you'll be pleased with the special New Year's Day Lunch, specially selected and prepared to start 2024 on a high!
A wonderful venue with everything you could want, COMO comes highly recommended!
3. Aperitif Restaurant & Bar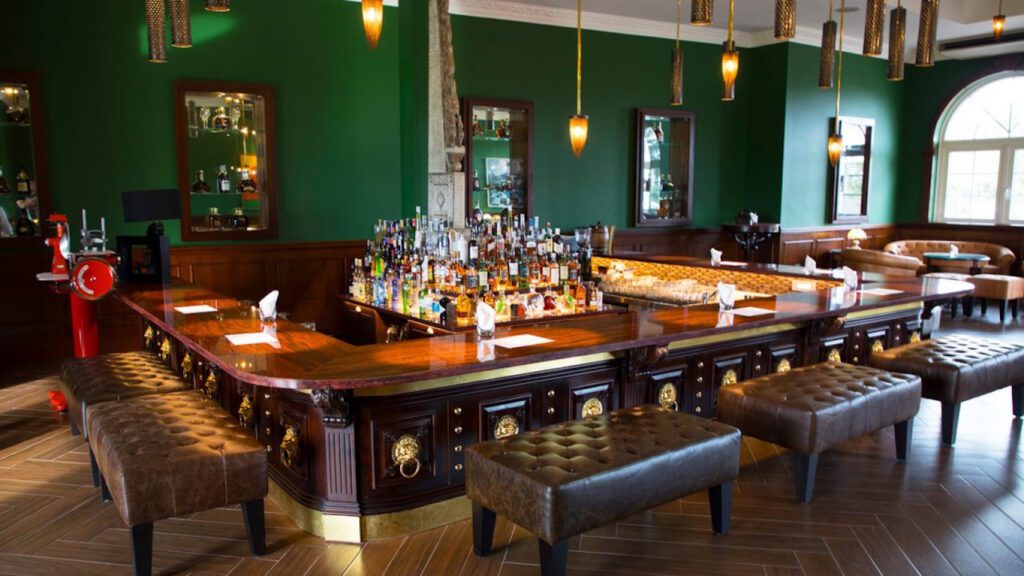 Not everyone likes the noise and razzmatazz of a boisterous New Year's Eve party. Some prefer quieter and more elegant settings to see in the new year, surrounded by sophistication and classy decor.
If this suits you more, then Aperitif will be right up your alley. Get dressed in your best for a tantalizing eight-course dinner with wine pairing, before retiring to a soiree at the bar. Grab yourself a cocktail and see in the new year surrounded by a nostalgic 1920's vibe.
And don't forget to bring your dancing shoes too, as live music will be accompanying as you do the tango into 2024!
If you have a taste for elegance, sophistication, and the finer things in life, then this place is the perfect venue for you!
4. New Year's Eve Beach Festival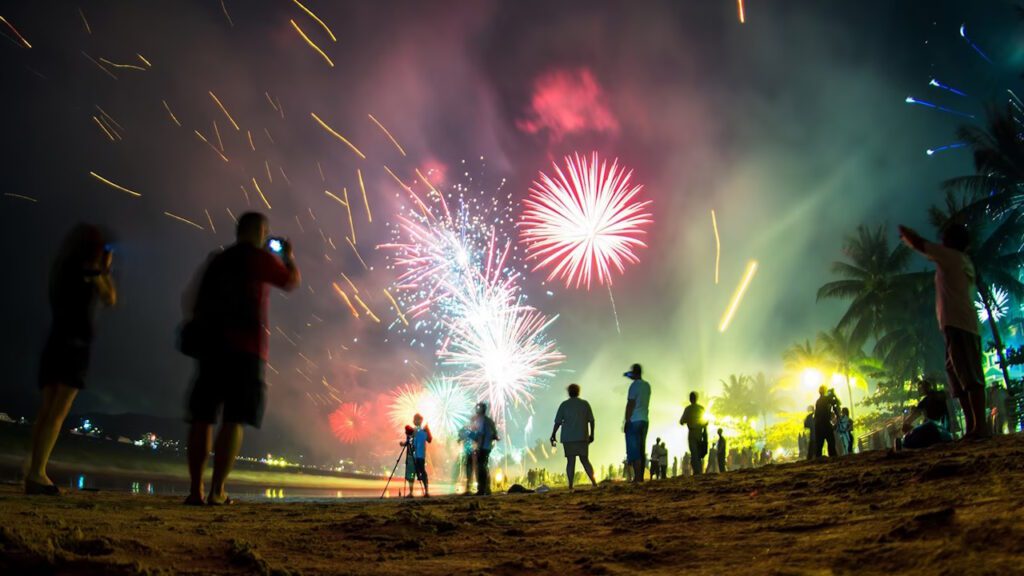 If there's one thing that Bali is known for, it's stunning beaches! Fine sand, the breathtaking vista, and the lapping tide of the Indian Ocean all make for a simply unforgettable experience to treasure.
So what better place to celebrate the New Year!? As part of the Sundays Beach Club, the new year celebration on the beach begins at 6 pm. Even with general admission, you can rent a VIP bungalow on-site complete with two bottles of either Moet Chandon and/or Veuve Clicquot and full butler service, a VIP welcome kit, fruit platters, a private bonfire, and 15,000,000 IDR to spend on food and drink.
All in all, it surely makes for the most incredible and exciting New Year's Eve you'll ever experience, in paradisiacal surroundings and a memory to treasure for a lifetime!
5. Masquerade Party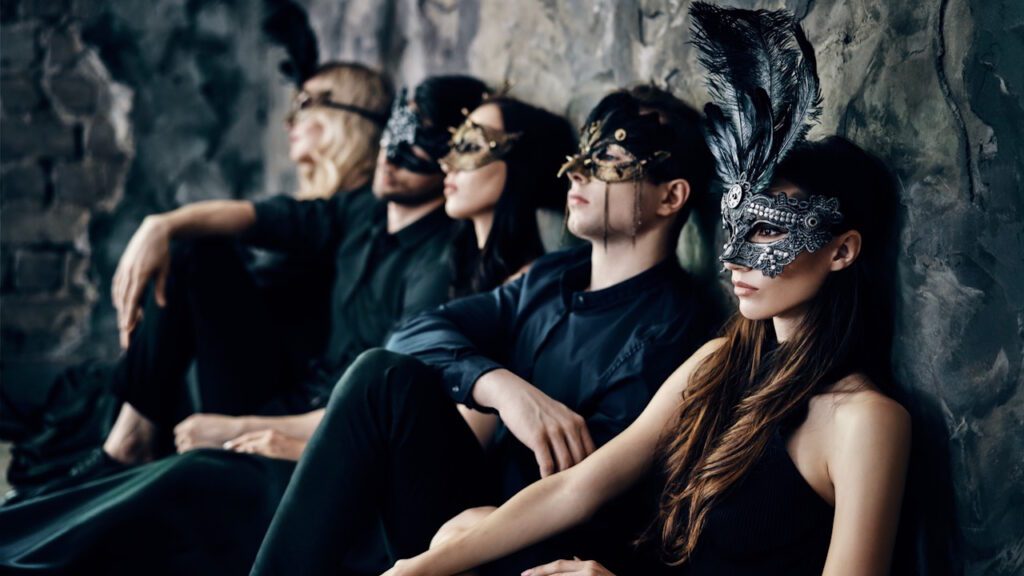 In this article, we've tried to highlight New Year's Eve events in Bali that are a cut above your typical party celebration, and this next item on our list certainly qualifies for that!
Hosted at the Sheraton Bali Kuta Resort, this event will be an extravaganza of flamboyance in a carnival atmosphere. Events kick off at 9 pm with a delicious buffet dinner, with food from all around the world laid out to suit every taste. There's also full bar services so you can enjoy a tasty drink with your New Year's Eve feast.
As midnight draws near, everyone will be invited to the Countdown Pool Party on the rooftop pools complex to see in and celebrate 2024 with live music and entertainment keeping you in celebratory mood until 2 am.
New Year's Eve is always a special, magical evening, so why not spend it in one of the most beautiful and magical places on Earth?